Eliminate mistakes!
Offer the certainty of selecting the right parts today and grow your business.
'The guide in your existing Webshop or Service Portal'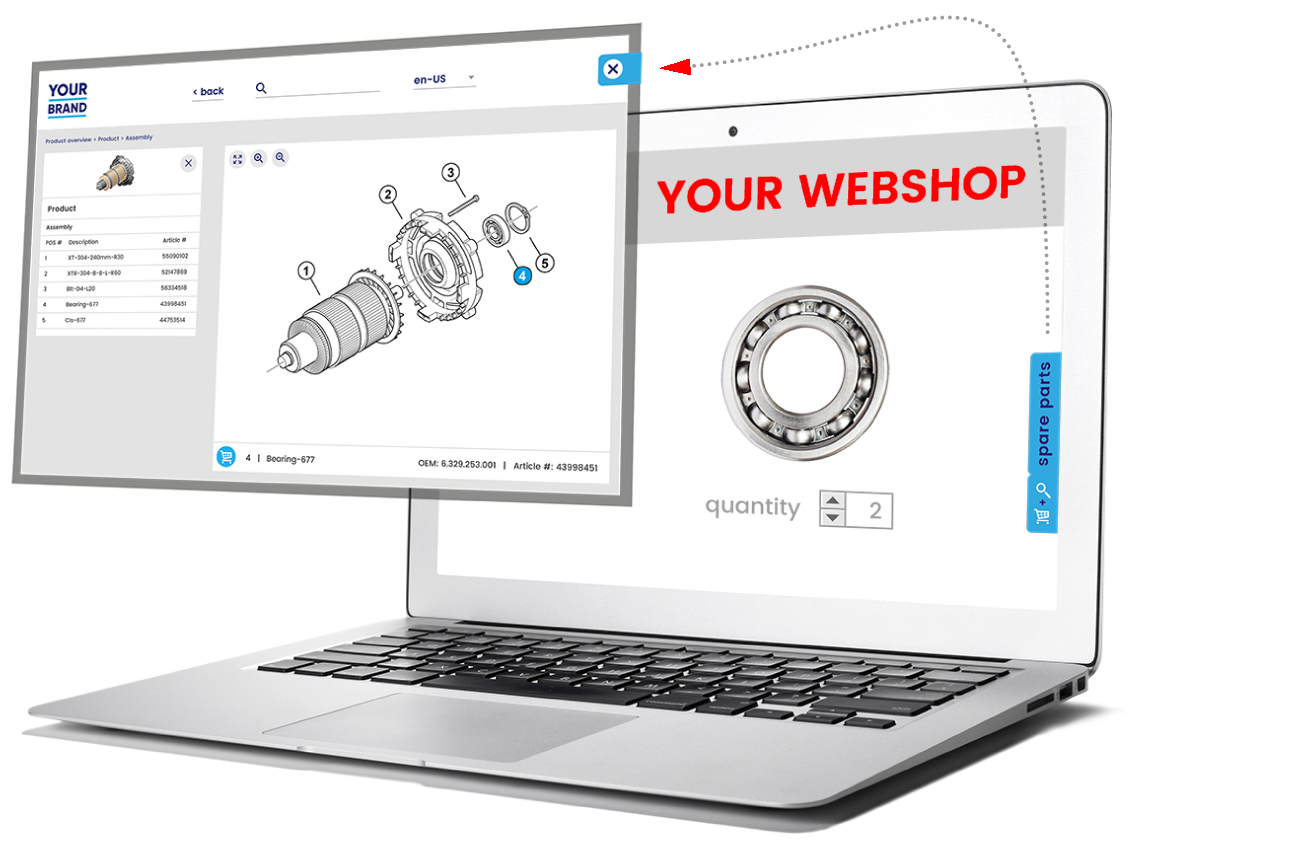 no order mistakes,
no returned items
start today and
highly automated
higher conversion
maximize profit
" .. return shipments have been reduced substantially .. "
" .. but, more importantly, a much higher conversion rate .. "
" .. we saved $$$$$ on time, efficiency and accuracy improvements .."
" .. powerful software to easily digitalize our parts manuals .. "
" .. easy CMS integration, more parts ordered through our website .. "
" .. Not only do they have the best product, the level of service is outstanding .. "
" .. order the right parts for their machines with just a mouse click .. "
Why do I need spareparts.live in my Webshop or Service Portal?
A truly successful Commerce platform is the heart of your ecosystem. Spareparts.live creates and links clickable drawings to all your relevant, web-based systems (internal and external).
Whether it concerns your Webshop, the Service portal for the technicians, or a Help system for all your end users.
Spareparts.live is built to automate the complexity of integrations from drawings. So that everything works streamlined and error-free.
Are orders returned because wrong parts were selected? Can you achieve more sales if customers would rather order from you? Or do you want to be the authority on spare parts or service & help in a specific market? Spareparts.live will solve these issues for you.
Offer your visitors the certainty of selecting the right parts
Selecting the correct part from a drawing – such as an exploded view – is much easier than selecting from a list of photos or part numbers.
With spareparts.live, your visitors click through drawings while additional part information is displayed. This gives them maximum certainty when ordering or requesting information for the right parts.
Reduce returned orders
Research shows that a quarter of all returned products are due to incorrectly chosen products. Wrong, because products are not adequately shown, in lists with only photos, or only lists with product numbers and a brief description. By using original parts drawings, you make it a lot easier for the visitor to make the right choice. If these parts also become clickable, this will result in fewer incorrect orders.
Saving costs
It is well known that the greatest cost savings can be achieved by reducing the number of incorrectly selected products. The costs of the logistics and workflow involved in a return shipment are enormous. Who doesn't want to bring costs down? Make sure the correct parts are selected!  
Increase conversion
Increase your conversion rate effectively because visitors choose your Webshop as their preferred shop. Returning visitors are good for better scores, more mouth to mouth advertising and even more exposure.
Increase profit
More profit is partly related to reducing the cost of returned products. A second aspect is that a good and simple selection system contributes to the pleasure and convenience that your visitors experience. A Webshop or Service Portal that users like to visit automatically attracts more customers. More customers means more sales, more profit.
already more than 75.000 catalogs and 20.000.000 parts imported into webshops